DeStress Lavender & Chamomile Aromatherapy Deoderizing Soy Pet Candle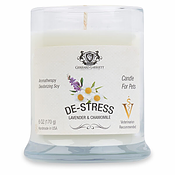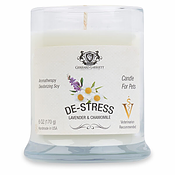 DeStress Lavender & Chamomile Aromatherapy Deoderizing Soy Pet Candle
Discover Dog Fashion Spa natural soap-infused wash sponge, capturing the essence of Quality Life for Dogs® and featuring jojoba oil and essential oil of fennel, known for their moisturizing, rejuvenating and antiseptic benefits for dogs.
Jojoba oil nurtures and conditions the coat, moisturizes dry skin and adds deep shine
Fennel essential oil helps revive a dull coat, breaks up toxins and cleans skin and coat
Dog Parents: Wet the coat with warm water and rub the sponge on the coat. Lather and massage the dog for 2 minutes to allow the essential oil to do its wonders. Rinse well and repeat if needed.
Use Dog Fashion Spa jojoba and fennel coat spray to help your dog smell great in between baths and reap the benefits of essential oils.
Made in the U.K.
Product Info
Active Ingredients:

Lavender Oil: Is the most used essential oil in the world. Ancient texts tell us that lavender essential oil has been used for medicinal and religious purposes for over 2,500 years. It reduces anxiety and emotional stress, improves sleep and alleviates headaches.

Chamomile Oil: Eliminates feelings of sadness, depression, disappointment, and sluggishness while inducing a sort of happy or charged feeling. Even smelling this oil can help a lot in overcoming depression and bringing about a good mood.

About Handmade Soy Candles: "Frosting" is a natural property of soy wax, not an imperfection. Soy wax is sensitive to temperature changes; with temperature change your candle may appear to pull away from the sides of the glass. These physical variations do not impact performance. Light and enjoy!